Since I'm new to Listal I thought I would make my first review and my first contribution to this site with a relatively new film of a franchise that has being a favorite of mine since childhood.
First things first, this review strictly looks at what happens in the film, I will put anything that was not part of my decision and any negatives in rating this film at the end simply because I feel like I should really put as much of what I thought about Skyfall as I can. And this isn't really much of a review as much as just a list of reasons why I liked this film since I take the "list the stuff you love" slogan quiet seriously and I'm not and will probably never be in the mood of reviewing or rating anything that I thought wasn't worth debating whether I felt it was good or not. So let's get started.
Skyfall is at best a film that deserves to mark the 50th anniversary of the Bond franchise and at worst a very decent Bond movie. Of course, right off the bat, you have to like the adventure that Bond goes through just like in every other Bond flick. The tracking of a merciless mercenary (Patrice) through the highly technologized streets of Shanghai, that ends in one of the most memorable scenes in the movie where the camera closes up on Bond and Patrice as they fight only a few inches away from the precipice. We also have the lair of our villain Raoul Silva, a distant relative of Anton Chigurh, on an isolated island of which he conviced the population that there was a fallout at a chemical plant. And obviously I have to mention Skyfall, Bond's childhood home which has an appearance as haunting as that of our agent's past.
We also have the little nods to the past which are essential to the story as we see Bond and M coming to grips with their pasts and embracing their future. First thing that comes to mind is the use of the famous Aston Martin DB5, the most iconic of all the Bond vehicles. The references to the gagdets which are an obvious staple of the franchise. We also had a gamekeeper that looked a lot liked Sean Connery. But I could go on and on about how the filmmakers have used all the essential parts of a Bond flick in developing the story and showing us its true theme but I'll stop here and go directly to it.
Because albeit all of the above was essential, the most important aspect that decides whether you found this movie worth it or not was that of its place in the franchise. This movie was made to not only celebrate the 50th anniversary of the franchise but to also ask what will become of it in the future. When the new Q and Bond meet they both instantly crack jokes at each other's job, Q a young computer mastermind and Bond an aging Double-0. These are just a few of the scenes that shows the struggle between what the franchise has been and what it might be in the future, a future we have had a glimpse at, Skyfall being the first 007 film to be released on IMAX. And all throughout the film we see Bond and M trying to defeat a new kind of enemy until they decide to retreat and fight on a level playing field. Bond's childhood home, Skyfall, located in the country isolated from everything. A place that, according to Adele, was the place where everything started. And yes it was metaphorically where everything started, it was the place that started 50 years of mistery and adventure that helped turn James Bond into the second-highest-grossing film series of all time and the definitive spy film. But surprisingly at the end of the movie Skyfall is completely obliterated. This is ultimately what this movie is about it tells the world that yes Bond has had a great run but also tells them something the Daniel Craig movies have been hinting at from the beginning and that is that James Bond has EARNED its place in modern filmmaking. So altough the world of 007 is full of cliches and over-the-top espionage crazyness that is old-fashioned compared to the realism that drives ambitious moviemaking in this new era, the myth of the super spy is far from over and, just like it usually says on the end credits, James Bond will return.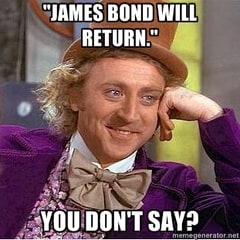 Other notes: On the subject of the young Q, I have to say that the people who didn't like the fact that the character was barely an adult really tick me off. Because in terms of story line, and in terms of the world we live in right now it made total sense to me to make Q a young tech savvy who is a genius on the subject of computer security. I really wouldn't have it any other way.
Like I said before this was more like a list of reasons why I loved this movie so here is a brief list of the things I didn't like that were part of my rating:
1. I felt it lagged a bit on the second half of the film.
2. Bardem's character's accent was all over the place but he makes up for it in making him even more creepy and enjoyable to watch when being really evil.
3. There was some repetitive dialogue, I don't know how many times Bond said "Of course he is," during the course of the movie.
4. I thought Miss Moneypenny really didn't have that much chemistry with Bond as you would expect the character to have. I liked that they got the ball rolling instead of having them explore the relationship in full in one movie, hopefully they will remedy this in future movies.